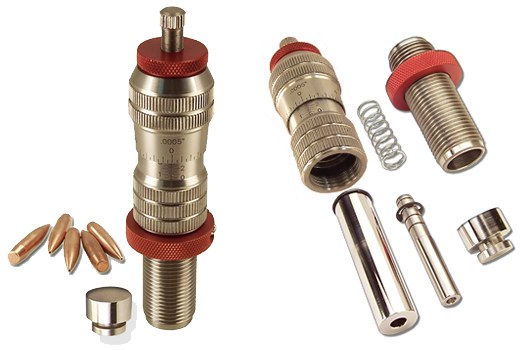 Improve ballistic coefficient (BC) and consistency with our Bullet Tipping Die.
Bullet Tipping Die Features:
303 stainless steel construction
Fine .0005" adjustment increments
Caliber sleeve and tipping punch are hand fit for very close tolerance
Knurled adjuster stem
Oversize stem lock
Caliber sleeves available for .22/6mm/6.5mm/7mm/.308/.338
Tipping punches available for different bullet profiles.
Positive stop bullet pusher bottoms on Bullet Tipping Die body

The same die adjustments will work in any press regardless of make or condition.

Tipping punch shapes are developed in CAD.
Tipping punch height adjustments allow for full bullet support prior to the tipping process.
Floating caliber sleeve compensates for any misalignment in the reloading press.
All critical parts are machined on high tolerance Swiss CNC machines.
How to Order the Bullet Tipping Die:
The Bullet Tipping Die is made up of the following three components, which vary based on the caliber/bullet you will be tipping. To order a complete Bullet Tipping Die, select the three components that are needed for your bullet tipping needs.
Tipping Die Body – Same for all calibers/bullets.
Caliber Sleeve – Specific to the calibers you will be tipping.
Tipping Punch – Specific to the bullets you will be tipping.
The following chart shows the pricing for each component.  To determine which tipping punch is needed, see our Tipping Punch Guide.
Bullet Tipping Die Part Numbers & Pricing
Component
Part #
Description
Price
 
DB1
Tipping Die Body
$145
 
CS224
Caliber Sleeve .224 Cal
$50
CS243
Caliber Sleeve .243/6mm Cal
$50
CS264
Caliber Sleeve .264/6.5mm Cal
$50
CS284
Caliber Sleeve .284/7mm Cal
$50
CS308
Caliber Sleeve .308 Cal
$50
CS338
Caliber Sleeve .338 Cal
$50
 
TP-XXX
Tipping Punch
$55
Replace "XXX" with Tipping Punch number (example: TP-B4).

See the Tipping Punch Guide
Phone Orders:
Call (814) 684-5322
Mail Orders:
Download and complete the ORDER FORM. Be sure to include a check or money order. Orders will be shipped when payment clears.
Additional Bullet Tipping Die Information: